Elementary School Science Quiz Board Game
(Lower Elemementary School Version)
These resources were created by Chris Gunn.
Science Quiz Board Game:
This game board which can be downloaded below along with the question sheets is intended as a review for lower to mid elementary school science programs (grades 2-4). The four board sheets should be pasted onto poster board in the arrangement shown below. There is also a copy of the questions with answers blanked out so that students can review on their own.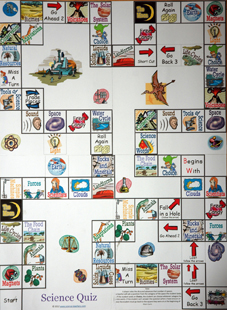 Resources for Download:
Science Quiz Game Review Workbook